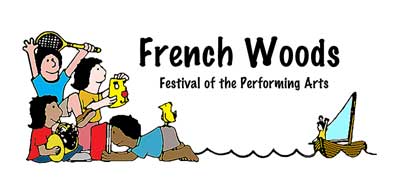 Performing Arts & Fine Arts Camp:
Performing Arts, Music, Dance, Circus Arts
Coed Overnight Camp
7 to 17 years-old
French Woods Festival of the Performing Arts
Camp Accreditation(s): ACA
French Woods Festival of the Performing Arts summer camp.
French Woods offers summer camp programs in dance, theater, music, circus, magic, visual arts, film and video, sports, tennis, fitness, waterfront, skate board, rock and roll and horseback riding. We cater to children from 7-17 years old. Younger camper have more guidance and supervision, while older campers are able to take on some responsibility and have a chance to work in the areas of their interest.
Each camper designs his or her own unique summer experience. We feature world-class programs coached by diverse, multi-national and talented counselor and adult staff members.
Campers are able to focus on one particular area of interest, or they may choose to select a variety of our activities. Although we are a dance camp, theater camp, music camp, circus camp, magic camp, visual arts camp, film and video camp, sports camp, tennis camp, fitness camp, waterfront camp, skate board camp, rock and roll camp and horseback riding camp, we are also a camp that offers all the traditional camp activities that can be chosen a-la-carte.
French Woods is located on a private lake in the western Catskill Mountains of New York State near the Delaware River on the Pennsylvania Border. The camp is approximately two and a half hours from New York City, between Monticello and Binghamton.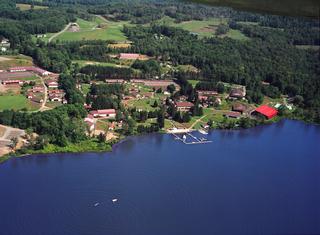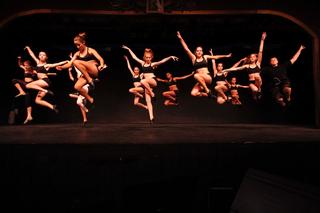 Camp Facilities
French Woods leads our industry in state of the art facilities.
Five theaters and two fully equipped scene shops plus a huge costume and prop warehouse give our theater program a depth and breadth no other camp can match.
Our 12,000 sq foot covered circus pavilion rivals the training facilities of many professional circuses.

Our horseback riding stables even allow for indoor riding lessons in case of rain.
We have 11 tennis courts, 5 lit for night play, 4 outdoor and two indoor basketball courts, baseball, soccer and lacrosse fields and a golf course across the street.

Our lake and heated Olympic sized swimming pool support our swimming and waterfront programs.
We have a large skate park with half-pipes, ramps, slides and jumps.
Our music building is a large two story air-conditioned structure with small rooms for practice and lessons and large rooms for symphony, orchestra and concert band rehearsals and performances.
The Rock and Roll program features 5 rehearsal studios, each outfitted with drum kits, guitar and bass amps and keyboards, plus a professional quality 24 track recording studio.
Our Magic department has its own specially constructed theater, allowing budding magicians to practice large-scale stage magic, as well as sleight of hand and close-up illusions.

Our Dining Hall is air-conditioned, and has backup power generation.
In a similar fashion, each of our programs is supported by the finest equipment and great spaces for you to learn and grow in.