Special Needs Camp:
Learning Disabilities, Autism, Aspergers, ADHD
Coed Overnight Camp
6 to 22 years-old
North Carolina
Camp Accreditation(s): ACA
Talisman Programs provide an enriching summer experience for young people with ADHD, an Autism Spectrum Disorder, or similar learning difference. Our wide array of programs offer age-appropriate adventures in an encouraging environment with a focus on building social and physical competence and confidence.
Our programs are designed to encourage development in the following areas: social skills, self-regulation, decision-making, communication and building a more positive self-image. Activities include: backpacking, rock-climbing, whitewater rafting, day hikes, swimming, crafts, and more. Campers are guided by highly-trained staff in goal-setting, problem-solving, appropriate risk-taking, and friendship-building, as they increase independence and personal responsibility.
Programs range from campus-based session for young kids to teen expeditions to an independent-living young adult group. There is also a Leadership course for returning teenagers, with opportunities to return and work on our Krewe. And there is always a big adventure to a distant location for those ready to explore. Our admissions director can help parents choose the best option for their children to ensure a summer of growth and fun.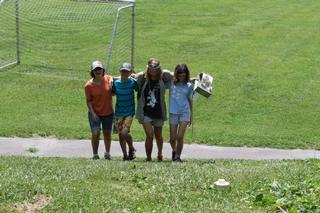 Camp Activities
Talent Shows
Swimming
Ropes Course
Nature
Horseback Riding
Field Trips
Boating/Canoeing
Arts & Crafts
Archery
Backpacking
rock climbing
tree climbing
day hikes
whitewater rafting
tubing
science exploration
Camp Facilities
Talisman is nestled on 60 comfortable acres in the Blue Ridge Mountains of western North Carolina. Campers and staff live in 4 bunkhouses overlooking our canoe pond and campfire ring. Groups can be seen throughout the day on our athletic fields, in our barn gym, and in the ever-popular outdoor pool. The camp family eats together in the spacious dining hall. We have an infirmary right in the middle of camp, along with more play areas, surrounded by woods full of hiking trails.
Camp Staff
Staff are hired based on an extensive application, interview, and background check process. All are in college or college graduates and are majoring in related fields including education, psychology, social work or outdoor recreation. We provide 2 weeks of intensive training in both hard and soft skills needed to work effectively with our campers. Talisman hires both male and female staff. Camper to staff ratio is 8:3.
Camp FAQs
Yes, the majority of our campers are taking some types of medications. Our nurse oversees all medication needs, and all staff members who are over the age of 21 are trained in medication administration. We use a med-packing company to allow easy administration. We strongly discourage parents from altering their campers' meds (no med vacations!) while at camp.

We do not use food as a reward or a punishment. We provide wholesome food that is generally familiar to kids (for example, hamburgers, hotdogs, peanut butter & jelly sandwiches, cereal, and eggs). We also encourage our students to try new foods. They are given substantial first servings, and must try small no-thank-you helpings if they wish to come up for seconds or be eligible for the occasional dessert. We do have limited meal alternatives, and will never let a child go hungry. Access to junk food is highly limited, and do not accept any care packages with food. We have vegetarian alternatives, and are prepared to meet most special dietary needs.

To participate in our program, your child must be able to walk across campus while carrying a 20-lb pack. All of our programs are designed to bring unskilled campers slowly into shape in their activities. The Base Camp four-day hike is appropriate for beginners, and all groups do day hikes in preparation. Teen Program participants should do basic physical training before camp (even just walking every day would be helpful). We do a lot of walking every day in all programs and eat a healthy diet, so our campers increase physical fitness while they are with us.

Our staff members are college students or recent graduates who are studying a related field (such as education, outdoor leadership, or psychology) and are seeking hands-on experience. Most have had experience working with young people, and all have been chosen because of their good judgment, compassion, and insights. Before they begin working with our students, all staff members receive two weeks of intensive training in a wide variety of safety, program facilitation, and wilderness skills - and newer members of the Talisman team are supported by experienced senior staff.

We address issues when they happen, as a group: We stop what we're doing and circle up to identify the problem, have the camper take responsibility, come up with some better alternatives, and decide whether there is a natural consequence. For example, throwing food might mean eating the next meal outside; horseplay in the van might result in missing the next van trip; being disrespectful may require apologizing and doing something nice for the other person. This group approach allows our kids to practice expressing their opinions and feelings appropriately and encourages them to listen to others. Time-outs are used to allow people to calm down and prepare to come to group. Sensitive issues may be dealt with one-on-one with a staff person. Yelling, punishment, and physical discipline are never allowed.

That's a challenging question to answer, because every day is different for each program. Most days for Teen Program participants involve a good bit of hiking or paddling, with group members increasingly taking charge of daily tasks. Base Camp and Sight groups usually get up, do morning chores, eat breakfast, and head out on their day's adventure (which could be a field trip to a waterfall, rock climbing, tie-dying, swimming, or packing up for a camping trip). Meals are served in our dining hall, and groups take turns with kitchen clean-up. Group discussions occur throughout the day, to plan for the next activity, to talk about what we learned in the last activity, or to resolve an issue. Evenings are time to wind down and prepare for bed. Cabin groups are organized by age, which allows us to practice age-appropriate peer interactions.