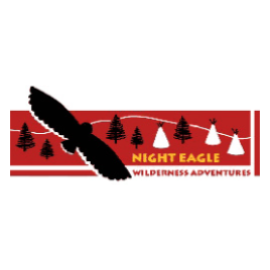 Adventure Camp:
Survival, Primitive Skills, Hiking, Community Living
Boys Overnight Camp
10 to 14 years-old
Night Eagle is located on 140 acres that are completely surrounded by 250,000 acres of Vermont's beautiful Green Mountain National Forest.
Camp Season:
July 2, 2023 – August 12, 2023
Camp Tuition Range:
$1,295.00 – $4,995.00


Financial Assistance available
Camp Location
Bruce Moreton
P.O. Box 479
Wallingford, VT 05773
8028558661
In an age in which camps are getting bigger, less personal, and stressing electronics and athletic competition more and more, there is a need for camps that offer a genuine camping experience and an opportunity for our children to live in harmony with themselves, others, and the environment.
Night Eagle exists to introduce the youth of today to the wonders of nature and to offer them that rare moment in which they can slow down, escape the modern world of cell phones, television, and video games, and discover new aspects in the meaning of life.
Located on 140 acres and surrounded by 250,000 acres of Vermont's Green Mountain National Forest, Night Eagle is a unique primitive summer camp for boys ages 10-14 that is designed to build a boy's self-confidence and foster a better understanding of native peoples and their relationship with the earth. Boys live in Lakota style tipis and share in the cooking, which is done over an open fire. Days and evenings are filled with quite crafts, active games, meaningful discussions, homemade music, storytelling, and a hundred other activities.
Activities at Night Eagle tend to spring from the environment and teach boys to rely on their own ingenuity. The surrounding forest provides campers with many of the materials they will use: an ash log is soaked and splints are made to weave baskets, giant mushrooms become artists' canvases, birch bark from fallen trees is sewn with fir roots and made into various containers, and apple wood limbs are carved into spoons.
At Night Eagle, boys can learn to survive in the wilderness, start a fire using flint and steel or a bow drill, tan a hide, make bows and arrows, cook delicious meals over an open fire, master the art of tracking and camouflage, identify wild edibles, perfect their canoe strokes, and hike the scenic trails of New England. The possibilities are limited only by their imagination. Through these activities, community living, group decision making, and the slower pace of life in camp, boys naturally develop a deeper respect for the land and an authentic sense of personal accomplishment as they work and play together in a spirit of cooperation rather than competition.
For a boy looking for a place where he can try his strength, his skills, and his imagination, Night Eagle is a dream come true!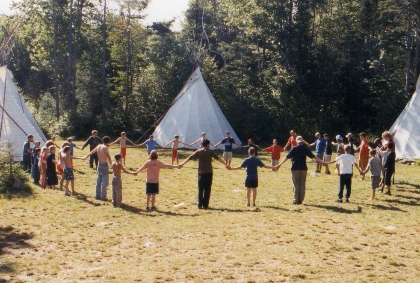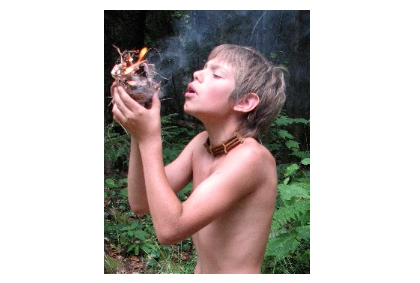 Photo Gallery
Click on a photo to activate the gallery
Camp Activities
Swimming
Nature
Fishing
Boating/Canoeing
Arts & Crafts
Archery
Camouflage
Tracking
Hawk Throwing
Atlatls
Blow Guns
Digeridoos
Camp Amenities
Registered Nurse
Laundry Service
On-site RN and EMT
Camp Facilities
Campers and staff live in 20 or 22-foot tipis that are patterned after Lakota design. Tipis offer the safest, most flexible housing for our campers and program. They are cool in summer, withstand all types of weather, are easy to set up and move, and accomodate four or five campers and a counselor comfortably. For those cool Vermont nights, smoke flaps regulate the draft so campers can have a cozy fire inside the tipi to make hot chocolate or pop popcorn. Tipi life is an integral part of the Night Eagle experience.
Our two private lakes and surrounding wetlands provide an ideal setting for all types of water related activities and are well-suited for developing a boy's curiosity and developing his self-confidence and physical coordination. Campers have waded through the wetland, walked across a ten foot tall beaver dam, crawled inside an abandoned beaver lodge, listend to King Fishers rattle overhead as they patrol the lakes, and stared in awe at Great Blue Herons and Loons flying overhead. After practicing their stalking techniques, campers are sometimes able to catch a glimpse of a bull moose as it browses for food along the lake's edge or surprise a family of otters as they play around the floating dock.
The only building in camp is our food shelter which is designed to serve delicious meals in a sanitary manner. After the conch calls everyone to circle up for a meal, the food is served by the campers (who, with their counselor, also prepared the meal) buffet style in our open air dining structure. Our Dietician approves the menus, and the Director oversees each meal to ensure that it is well balanced, plentiful, and prepared according to state guidelines.
Our well-equipped Health Center is located in the infirmary where we have a registered on duty each day to attend to the physical and emotional needs of campers. Illnesses and emergencies are cared for at Pediatric Associates or Rutland Regional Medical Center, both in nearby Rutland, Vermont.
Camp Staff
In a summer camp, staff is the determining factor between opportunities lost or a learning experience so rich for a boy that its possibilities can never be measured. Night Eagle's real strength lies not only in its program, but in its staff. All counselors are at least 18 years old and have completed their freshman year in college. They are chosen for their experience, knowledge, moral integrity, and dedication to working with young people. They are teachers, students, artists, craftsmen, and musicians. Each has his own special skill.
Counselors live in the tipis with the campers (one to each tipi of four or five campers) and keep parents informed of their son's experiences through a weekly post card and a letter at the end of the camper's stay. Because safety is our first consideration in every camp activity, all staff members are required to participate in a week of staff training prior to the opening of camp. Staff members who work in the technical areas of canoeing swimming instruction, lifesaving must have extensive background in their specialty before they are considered for employment.
Camp FAQs
A night eagle is an owl. Owls have been referred to as night eagles for centuries. When someone sees or hears an owl in the wild, he is usually left with a strong memory of that encounter. To the ancient Greeks owls were symbols of higher wisdom, and to the American Indian they are symbols of wisdom, protection, and magic. Being a bird of night, owls are the eyes of the night. They can see what is not in the open, and their medicine can extract secrets. At Night Eagle Wilderness Adventures, boys are allowed to be themselves and to try things that they might not feel comfortable trying at home or at school. Undiscovered aspects of a camper's personality are allowed to surface and be seen and appreciated by those around him.

Night Eagle accepts only 36 boys per session, so within 48 hours, everyone in camp knows each other by name. The director lives in camp in a tipi, directly supervises the program, and actually leads activities. We agree with Richard Louv, the author of Last Child in the Woods, when he looks at the youth of today and states that "Never before in history have children been so plugged-in and so out-of-touch with the natural world . . . direct exposure to nature is essential for healthy childhood development - - physical, emotional, and spiritual." At Night Eagle we focus on having fun while immersing campers in nature and engaging their imagination and senses, not entertaining them, as we nurture their love for the earth. We hope to inspire boys to become life long learners by awakening their curiosity of the world around them and teaching them to be comfortable and confident in the outdoors as they develop their own unique gifts. Ultimately, by living in a small community surrounded by the forest, boys learn to to be resilient as they adapt to challenge and change and to ask questions and seek the answers for themselves.

In Vermont we have a saying, "If you don't like the weather, wait a minute." It's usually warm during the day and cool enough at night (40-50 degrees) to sleep in a sleeping bag. Sometimes it rains. When it does, activities continue as usual but are held under our outdoor shelter or in the tipis themselves. Often, we use that time for an all camp gathering and enjoy a hot cup of cocoa or hot tea as we discuss important camp issues or listen to stories about the American Indian.

Night Eagle offers one-week, two-week, three-week, four-week, and six-week sessions. The ONE WEEK SESSIONS are designed to give young, new campers a "taste" of Night Eagle. Because of their brief stay, however, campers are limited in the activities in which they can participate. We have found that campers usually take three to four days to acclimate themselves to the lifestyle and slower pace of life at camp. By the time one-weekers begin "getting into camp," it's time for them to go. Still, because of family schedules, one week may be the best option for some families. The TWO WEEK SESSIONS offer a well-rounded camp experience for younger campers who are new to Night Eagle and for those campers who find it impossible to stay for a longer time period. Boys enjoy a wide variety of activities, and usually look forward to attending a longer session the following summer. The THREE, FOUR, and SIX WEEK SESSIONS offer the best opportunities for campers to become more active in the community, develop strong friendships, experience personal growth, assume leadership positions, and fully participate in the Night Eagle program. In the past seven years, 74% of campers who attended a one week or two week session their first summer chose the three, four, or six week option for their second and subsequent summers.

Part of coming to camp is the adventure of trying new things - - that includes food. There may be some new foods that you will have the opportunity to try and some foods that you think you might not like, but you've never had those foods Night Eagle style! Some typical examples from our menu include: cereal, granola, oatmeal, grits, grilled cheese, spaghetti, cold-cut sandwiches, lasagna, three-bean salad, chili, bison burgers, fajitas, burritos, and everyone's favorite - - Night Eagle Pizza!

The only need for electricity at camp is to power a refrigerator that stores perishable food and to pump our water from deep in the ground. In order to do that, there are several large solar panels that charge a battery bank. Because of our philosophy in living simply, there is no need for any other powered devices for day-to-day living in camp. We don't use cell phones, computers, tv's, clocks or watches, electric lights, or even flashlights at camp. However, staff members do have access to flashlights in case of an emergency, and the director does have a cell phone for emergency purposes.

Night Eagle runs on the schedule of the sun: we rise just after the sun rises, and we settle down once the sun sets. By the time the night sets in, your son will usually be back in his tipi catching up with his tipi mates about all of the day's adventures. Perhaps his counselor will tell the group a story, or perhaps your son will read a book. All of this can be done by candlelight and firelight. Pretty soon, after having a fun-filled day, he will be ready for sleep once Arctic Arrow says, "Okay, boys, it's later than you think."

Campers at Night Eagle have come from 24 different states and 11 foreign countries. Although we have quite a few campers from the New England area, don't be surprised if your son has a tipi mate from Louisiana, California, Texas, Florida, or even Australia, Germany, France, or Switzerland!

At Night Eagle boys are free to wear whatever they are most comfortable in. Because our program centers around living closely with the earth and learning about the American Indian, quite a few of our campers choose to wear a breechclout, which allows for a closer connection to the natural world and aligns with one of Night Eagle's core values: simplicity. As one camper put it, "Why wouldn't I wear one. It's the most comfortable thing in the universe!" At no time, however, will a camper be pressured into doing or wearing anything he is not comfortable with. On any given day it is not unusual to see campers wearing everything from blue jeans and t-shirts to breechclouts similar to the ones worn by the American Indians and the French explorers who adopted their dress.

Absolutely! A small folding knife with a 2" or 3" locking blade that fits into a pocket can be a useful tool at Night Eagle. Since some campers prefer to wear a breechclout in camp, they may bring a small sheath knife that can be worn on their belt. We ask that you follow the guidelines set in the Parent Handbook. When boys arrive at camp, they will be given a knife safety test to ensure that they know how to handle a knife properly.
Camp Job Opportunities
Counselors must be at least 19 years old and have an aptitude for and an interest in working with boys, ages 10-15. They must be comfortable in the outdoors, content to live in a tipi, and knowledgeable of or willing to learn outdoor skills.