Traditional Camp
Coed Overnight Camp
8 to 16 years-old
Maine
Camp Season:
June 27, 2021 – August 14, 2021
Camp Tuition Range:
$3,740.00 – $5,095.00


Discounts & Financial Assistance available

Camp Accreditation(s): ACA
It's hard to describe just what makes it so special here at Kingsley Pines, but you'll know it when you see it – it's a feeling you get the moment you arrive. Just set foot on our campus and you can hear and see the enthusiasm and love for camp all around you.
Build Independence and Self-Esteem

By attending Kingsley Pines, campers develop skills in our supportive atmosphere that can be difficult to learn elsewhere. There are numerous opportunities to make independent choice, so campers gain confidence in their decision-making skills. Our campers have the ability to expand their horizons and try new activities in a safe and encouraging environment. They build real self-esteem by facing challenges and succeeding.
Counselors Who Really Care

Every summer camp likes to say they have the best staff, but we really believe we do. From their experience level to their training and, most of all, their ability to interact with kids, our amazing counselors are not just here to run programs - their entire role at camp is about connecting with the kids in their care. At Kingsley Pines, our counselors really shine!

A Culture of Safety
We know that it can be dauting to put the safety of your child into someone else's hands and to find the safest possible summer camp experience - while ensuring your child will still have fun! At Kingsley Pines, we take safety very seriously. It is not jsut a word to us - we exceed all national standards and our entire staff is carefully trained to protect your child. Like you, we value safety above all else.
An Authentic Experience
Our campers often talk about having "camp sickness" when they're not here - as in reverse home-sickness! And we can certainly understand why. Campers can be themselves and be accepted for who they are. They have the freedom to try new activities without fear of failure, in our supportive and accepting community.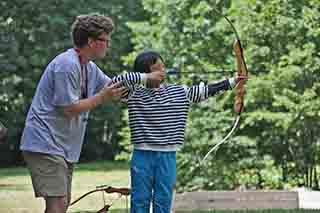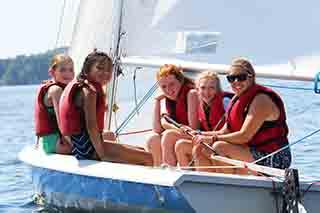 Camp Activities
Soccer
Swimming
Tennis
Volleyball
Water Skiing
Ropes Course
Nature
Golf
Archery
Arts & Crafts
Baseball/Softball
Basketball
Boating/Canoeing
Climbing Wall
Dance
Drama
Field Trips
Rock Climbing
Kayaking
Sailing
Fencing
Stained Glass
Windsurfing
Golf
Ultimate Frisbee
Ceramics
Musical Theater
Outdoor Living Skills
Photography
Football
Woodworking
High and Low Ropes Courses
Ukulele
Paddleboarding
Camp Amenities
Laundry Service
Registered Nurse
Transportation Services
Camp Facilities
Kingsley Pines is nestled on the shores of crystal clear Panther Lake, sitting on over 100 beautiful wooded acres in Raymond, Maine. We are two hours from Boston and 40 minutes west of Portland.
Our waterfront can't be beat! We are on a private, 1X5 mile lake, and we're usually the only boats on the lake. We have every kind of water-toy imaginable including high-end sailboats, professional ski boats for waterskiing, wakeboarding, and tubing, windsurf boards, kayaks, canoes, a rope swing, a water trampoline, a floating climbing apparatus, and a water launch!
Our land activities have great facilities as well. There are too many to name, but here's a short list: rock climbing tower, high and low ropes courses, archery range, theater, art studio, ceramics studio, indoor basketball courts, soccer field, baseball field, lacrosse field, 4 tennis courts, and much more!

We eat every meal lakeside under a big oak tree (unless it rains). Meals are served buffet style, with a large variety of choices at every meal. Campers rave about the food. Our chef is known for their tastey, delicious, fresh, and nutritious meals. There is always something for everyone, even the pickiest of eaters!
Our cabins are well-maintained, but still have a rustic feel. All cabins are equipped with electricity and screens. Most cabins have bathrooms attached. Cabins without bathrooms share several central bath houses with modern plumbing, including: hot and cold running water, sinks, flush toilets, and individual shower stalls.
Camp Staff
Our Staff
During our hiring process, we look for caring, attentive role models who are devoted to providing campers with the support they need to have a positive, life-changing camp experience.
Staff Selection
We conduct a highly selective hiring process, including background and reference checks. We seek candidates that have prior experience working with children and that are very knowledgeable in the activities they will instruct.
What Makes Our Staff Different
We believe that our staff at Kingsley Pines is special and we work hard help our staff shine. The average age of our staff members is 21 and to be eligible to work at camp, you must have completed at least one year of college. We do not have any Junior Counselors or Counselors-In-Training. All staff attend a 7-day orientation before camp begins, to learn a large variety of skills, including: how to identify/manage homesickness, mediate conflicts, prevent and address bullying, handle emergency situations and sensitive issues, and help campers make friends and improve their social skills. We also have two Campus Heads, one for girls and one for boys. Their sole duty is to focus on the emotional well-being of campers and staff.
Staff Goals
We maintain a strong, positive staff culture focused on achieving our five goals and this truly sets our staff apart. We developed these goals to help staff understand that their job is to enable their campers to grow and develop. We believe by striving to meet these goals, we can to create a meaningful experience for both campers and staff. The five goals are:
Camp is a life-changing experience, where campers learn things about themselves they didn't know when they arrived – Independence, Responsibility, Group Living Skills, New Activity Skills, Decision Making Skills.
No camper will "fall through the cracks." Each child is attended to while at camp.
Counselors have a positive impact on each camper, such that in 20 years each camper will remember his/her counselor's name and experience at camp.
Counselors are members of a supportive community and they rely on each other.
Each counselor realizes the effect their actions and behaviors have on the campers and that is reflected in the choices that they make.
Camp Sessions
Session 1 (2 weeks)

Dates:

June 27, 2021 – July 10, 2021

Capacity:

220 campers

Tuition:

$3,895.00

Session 2 (3 weeks)

Dates:

July 11, 2021 – July 31, 2021

Capacity:

220 campers

Tuition:

$5,299.00

Session 3 (2 weeks)

Dates:

August 1, 2021 – August 14, 2021

Capacity:

220 campers

Tuition:

$3,895.00