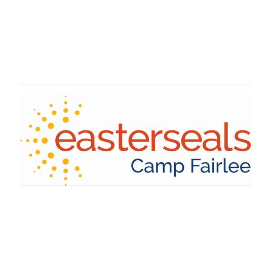 Special Needs Camp:
Autism, Cerebral Palsy, Developmental Disabilities, Down Syndrome, Physical Disabilities
Coed Overnight Camp
6 to 80 years-old
Delaware, Maryland, Pennsylvania, Virginia
Camp Season:
June 25, 2023 – August 27, 2023
Camp Tuition Range:
$1,550.00 – $2,550.00
Camp Accreditation(s): ACA Accreditated
Camp Location
22242 Bay Shore Road
Chestertown, Maryland 21620
410-778-0566
Camp Office
22242 Bay Shore Road
Chestertown, Maryland 21620
410-778-0566
Easterseals Camp Fairlee (ESCF) has been providing recreation and respite services to persons with disabilties, and their families, since 1954. ESCF is primarily known for providing a tradtional, residential, summer camp experience for childen and adults with all types of disABILITIES! IN recent years, it has become well known as a regional provider of disability services and has had persons from as many 12 different states attend summer camp. The facility is located in the middle of 250 rural acres on Maryland's historic upper Eastern Shore. Program participants enjoy a variety of activities including canoeing, horseback riding, wall climbing, zip lining, ropes course, swimming, arts/crafts, indoor and outdoor games, and lots fun, friendship and fellowship.
Persons with all types of disabilities attend ESCF including those with Autism, DD, CP, MD, TBI, DS, MS, stroke, orthopedic and physical impariments, and many others including those who are medically fragile. ESCF has a health center with an RN and LPN's, and a physician on call 24/7.
ESCF was completely rebulit and renovated in 2015. All facilities are new, modern, accessible and comfortable.
Besides Summer Camp, other services include Respite Weekends from September through May, and Travel Trips for adults 18 and older year round.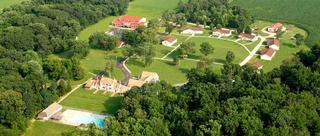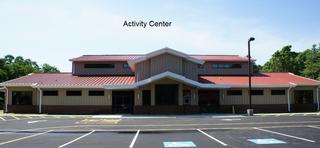 Photo Gallery
Click on a photo to activate the gallery
Camp Activities
Cook Outs
Drama
Field Trips
Fishing
Nature
Ropes Course
Swimming
Climbing Wall
Boating/Canoeing
Basketball
Arts & Crafts
Horseback riding
zip line
nature trails
indoor activity center/ gymnasium
Camp Amenities
Registered Nurse
All Brand New Facilities in 2015
new cabins
fully air-conditioned
health Center
activity center with gymnasium
large pool
climbing tower
zip line
nature trails
horseback riding
canoeing
kayaking
arts & crafts
fully accessible
250 arces
Camp Facilities
Easterseals Camp Fairlee was totally rebuilt in 2015 with another $400,000 of improvements added in 2020. All old buildings were demolished to make for all new facilities that are accessible and climate controlled for year round comfort. Facilties include 7 new cabins, a 12,000 square foot activity center with gymnasium, health center and infirmary, dining hall, outdoor pavilion and oudoor activity areas including wall climb, high and low ropes, zip line, pool, nature trails, fields etc.
Camp Staff
Sallie Price, Director of Camping and Recreation
Camp FAQs
Children over 6 and adults ( including senior adults) with disabilities attend Camp Fairlee. Common disabilites include ( but not limited to) intellectual disabilities, Cerebral Palsy, Muscular Dystrophy, Down Syndrome, Multiple Sclerosis, brain injury, Autism, physical disabilities / impairments, and most others including individuals who are medically fragile. A doctor must certify that a participant is well enough to attend camp.

Campers can choose their activities. Activities include swimming pool, wall climbing, zip lining, canoeing, kayaking, nature trails, high and low ropes, horseback riding, outdoor games, arts/crafts and more! During periods of excessive heat or inclement weather there is a 12,000 square foot activity center with a gymnasium for indoor games and activities.

yes. Our chef can prepare meals that aresalt free, diabetic, vegetarian, gluten free and so forth

All facilities and activities are fully accessible.

Camp counselors are trained to help with all needs including toileting, bathing, dressing, grooming, eating etc.

Camp Fairlee trains it staff as per American Camp Association Standards, requirements by the state of Maryland and Easterseals policies. Such training includes personal care supervision, lifting and transferring, behavior management, abuse, neglect and exploitation, First Aid and CPR. All staff go through criminal background checks with the state of Maryland and the FBI. Lifegaurds are certified by the American Red Cross

All seven cabins and dorms are new and climate controlled year-round for comfort and are fully accessible.

Camp Fairlee has a full time health center / infirmary staffed by nurses during camp sessions to watch over the health of camp participants. Nurses handle meds upon check in and distribute as per doctor prescriptions. There is a physician on call 24/7. There is a hospital emergency room about 8 miles away.

Yes. Camp Fairlee is accredited by the American Camp Association and meets over 300 standards for health and safety.
Camp Job Opportunities
Summer Camp Counselor to work with children and adults with disabilities