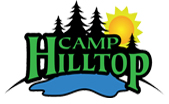 Traditional Camp
Coed Overnight Camp
6 to 16 years-old
Connecticut, New Jersey, New York, Pennsylvania
Camp Season:
June 25, 2023 – August 19, 2023
Camp Tuition Range:
$3,070.00 – $10,890.00


Discounts available

Camp Accreditation(s): American Camping Assoc.
Camp Hilltop, Everything a camp should be! Hilltop truly is a "Home Away From Home" for our campers. Campers feel comfortable and excel in a non-competitive, structured and nurturing environment.
Camp Hilltop is a traditional overnight camp located in the Catskill Region of New York State. Family values are the foundation from which Hilltop is built. Hilltop is designed to provide campers with new and memorable experiences that will last a life-time.
The daily program consists of 90+ activities and the flexible schedule allows campers to explore new avenues of interest or develop skills in already familiar areas. We pride ourselves in providing quality instruction in horseback riding, water-skiing, all land sports, a variety of arts & crafts, tennis, go-karts, climbing tower, high and low ropes and much more...
Hilltop offers 2 through 8 week sessions at reasonable rates.
Please come and visit and you will see for yourself that HILLTOP IS EVERYTHING A CAMP SHOULD BE!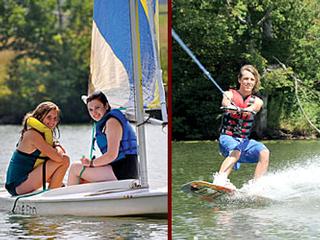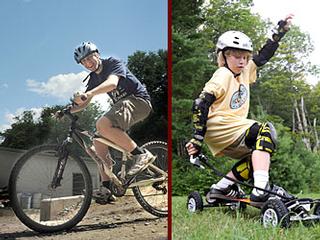 Camp Activities
Gymnastics
Hockey
Horseback Riding
Nature
Ropes Course
Soccer
Swimming
Tennis
Volleyball
Water Skiing
Golf
Go Carts
Fishing
Aerobics
Archery
Arts & Crafts
Baseball/Softball
Basketball
Batting Cages
Boating/Canoeing
Climbing Wall
Computers
Cook Outs
Dance
Drama
Field Trips
Flying Trapeze
Mountain Boarding
Skate Boarding
Gardening
Bungee Trampoline
High Ropes Challenge
Low Ropes Course
Zip-line
Climbing Tower
Vertical Playpen
Tree Climbing
Giant Swing
Leap of Faith
Crate Climbing
Hiking
Lake Trampoline
Sailing
Windsurfing
Archery
Field Hockey
Flag Football
Go Karts
Lacrosse
Mountain Bikes
Street Hockey
Softball
Computers
Dance
Drama
Farm Animals
Music
Newspaper
Life-size Chess
Tutoring
Ceramics
Jewelry Making
Leather craft
Magic
Painting
Photography
Rocketry
Stain Glass
Tie-Dying
Woodworking
Exciting Off-Camp Trips
Overnights
Raft Trips
Camp Amenities
Canteen
Fitness Center
Laundry Service
Registered Nurse
Transportation Services
Special Diets
Camp Facilities
17 Cabins with indoor bathroom facilities, Dining Hall, Roller Hockey Pavilion, Athletic Fields, Gymnasium, Dance Studio, Camper Lounge, Computer Studio, 30-acre Private Lake, Swimming Pool, High Ropes Course, Low Ropes Course, Zip-Line, Climbing Tower, Vertical Playpen, Giant Swing, Horse Stables and 2 Riding Rings, Archery Range, Batting Cage, Go-Kart Track, Volleyball Court, Lighted Tennis Courts, Nature Cabin, Basketball Court, Camp Store, Arts & Crafts, Pottery, Photography & Stain Glass Studios and miles of Horse, Hiking and Biking Trails.
Camp Staff
One of the keys to Hilltop's success is our staff. We take pride in the people we hire. They are the most important people to us, our families and our campers. We recruit counselors who are college age and above, as well as graduate students and teachers for our Senior Staff positions. The average age of the Hilltop staff is 23. Our mature and caring staff provides superior supervision with a 4 to 1 Camper to Counselor ratio.
Camp FAQs
Hilltop is located in Hancock, NY, just off NY Route 17. Approximately 40 minutes from Binghamton, 2 ½ hours from NYC, 1 ½ hours from Albany, 4 ½ hours from Boston, 3 hours from Philadelphia. Hancock is nestled between the Pocono and Catskill Mountain ranges at the mouth of the Delaware River. If you are looking at a map and see the Northeast corner of Pennsylvania, Hancock is located just over the border in NY.

Camp Hilltop is a non-competitive camp. We believe that kids have enough competition during the school year. Camp is a place to improve an already familiar activity or learn a new one in a fun and friendly environment.

Yes, all cabins have bathrooms (toilets and showers) with hot and cold running water and electricity. All of Hilltop's cabins are simple and well maintained.

Hilltop assigns campers to cabins based on the grade they are entering in the fall.

The Hilltop program offers a mixture of both free choice and assigned activities. There are five activity periods each day, 2 one-hour activities (cabin activities) are assigned by our creative program staff and the remaining 3 one and a half hour periods (2 intensives and a free activity) are chosen by the camper.
Camp Sessions
8-weeks

Dates:

June 25, 2023 – August 19, 2023

Capacity:

265 campers

Tuition:

$10,890.00